M4 closures
Refurbishment of the M4 bridge at Chieveley requires a series of weekend closures of the westbound carriageway between the slip roads.
Westbound traffic will be diverted off via the exit slip road at J13, and sent across the junction to return to the motorway by the entry slip road.
Closure applies during the following periods:
for five nights:
10pm to 6am Sun 21 to Thur 25 April
full-time closure:
10pm Fri 26 April to 6am Mon 29 April
10pm Fri 10 May to 6am Mon 13 May
10pm Fri 17 May to 6am Mon 20 May (maybe subject to change)
See the official announcement here.
During June and July there will be further closures of the J13 roundabout requiring traffic to be diverted along the A4 between J12 and J14.
See the official announcement here.
Significant delays are expected during these periods, and Highways England recommends that motorists heading for J13 allow plenty of extra time, or choose an alternative route.
Telescope workshop at the village hall
Come and meet local astronomers, and discuss anything to do with the sun, moon and stars.
Newbury Astronomy Society is holding a telescope workshop at the village hall at 7.30pm on Friday 26th April.
You can bring a telescope, binoculars, or use one of the society's.
If it's very cloudy, advice on how to buy and use a telescope will be given inside the hall.
All are welcome: £2 on door, to cover costs.
Let Val Russell know if you'd like to attend, so that the organisers can ensure that there will be enough telescopes.
Message from Elm Farm
Due to lambing the Elm Farm trail will be closed on the south side (the Elm Farm building side) of the road from  15th April to 30th June for lambing (see map where trail is marked in yellow). Everyone is welcome to continue walking the trail on the north side of the road, but please bear with us until we can re-open the whole trail again.  Signs will be displayed explaining about the closure.
It is important that the lambing ewes have a calm and stress-free environment in which to lamb so we would be very grateful for your help in ensuring a successful lambing season.
It's open!
The new Saviour White Hart is up and running, and has got its first Trip Advisor report --  a highly favourable one.
There's also a competition currently running in conjunction with PennyPost. The lucky winner will get dinner, bed and breakfast for two at the inn. The closing date is 31st May.
The four-barrel microbrewery under head brewer John Trueman, will be offering three craft ales, with more brews to come (seasonal offers and specials, lighter in summer and thicker, sweeter in winter).
Those who join  the White Hart's beer club, Saviour Pennies at £20pa subscription, will be entitled to a 50 per cent discount on the microbrewery ales. Download the app from the website. Beer club events will be held regularly.
There's a loyalty scheme for foodies, the Hart Club (free to enter), under which diners can collect and spend points. The menu features pub classics and tapas to eat in or take away.
Opening hours are:
Monday – Thursday 4pm – 10pm
Friday and Saturday 12 noon – 11pm
Sunday 12 noon – 5pm
And remember: the White Hart is now cashless: all purchases will be made by card or contactless. If this is a problem for you please ask the staff.
New parish council
WBC's website announces that, with just four nominations for Hamstead Marshall Parish Council, the following candidates will become parish councillors in an uncontested election on 2nd May 2019.
AROMANDO, Susie: White Hart Cottage, RG20 0HW
BENEST, Peter James: Little Farm,  RG20 0JH
BUDD, Anne Louise: 8 Ash Tree Grove, RG20 0HJ
HANDY, John Peter: 10 Salters, RG20 0HH.
Official confirmation can be seen here.
District councillors: election 2nd May
As described in the March issue of the Hamstead Hornet, Hamstead Marshall now falls within an expanded WBC ward, taking in Hungerford and Kintbury. This ward will be represented by three councillors, so electors will cast three votes on 2nd May.
The candidates who have been nominated for the new Hungerford and Kintbury wards are:
| | |
| --- | --- |
|  Dennis Charles Benneyworth | Conservative Party |
|  Ron Blindell | Labour Party |
|  Rob Chicken | Liberal Democrats |
|  James William John Cole | Conservative Party |
|  Tim Davis | Green Party |
|  Denise Anne Gaines | Liberal Democrats |
|  Paul Pugh | Labour Party |
|  Claire Michelle Rowles | Conservative Party |
|  Matt Wilson | Labour Party |
|  Shaun Henry Wood | Liberal Democrats |
Pilates in the village hall, with Paula Chandler
The next block of classes begins Monday 1st April. It will be a 5-week block this time and the dates are as follows :
Monday 1st April - Class 1 Block Booking
Monday 8th April - Class 2 Block Booking
Monday 15th April - Class 3 Block Booking
Monday 22nd April- NO CLASS Easter Monday
Monday 29th April- NO CLASS Paula away
Monday 6th May - NO CLASS Bank Holiday
Monday 13th May- Class 4 Block Booking
Monday 20th May- Class 5 Block Booking
Monday 27th May- NO CLASS Bank Holiday
Contact Paula if you have any queries.
If you think Brexit's unmentionable, try this...
We're all headed there, but it's not a subject welcomed in everyday conversation. The social taboo on discussing death grows ever stronger as life expectancy is extended, although our great-grandparents were probably much more comfortable with the subject than we are.
Death Cafés aim to break through this silence by bringing together groups of people – not necessarily known to each other – for a directed discussion about death with no agenda or objectives other than to help each other towards feeling more comfortable about the subject. The conversation may range from emotional to practical issues, but it's not a grief support or counselling session, and there's no intention of leading people to any conclusion, product or course of action.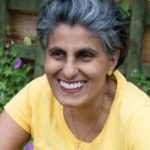 Local yoga teacher Neeta Madahar is running second Newbury Death Café at the village hall from 2 until 4pm on Sunday 28th April. Book here. Entry is free, all are welcome, and no one will be expected to say anything with which they are not entirely comfortable. Refreshments will be served.
See https://deathcafe.com for information on the national organisation.
Tai Chi, Yoga and Pilates classes
Pilates, Tai Chi and Hatha Flow Yoga classes are being run in the village hall and at Elm Farm on Mondays and Thursdays. See the What's On calendar for dates and booking links.
Results of the parish plan survey
Returns of the questionnaire circulated to villagers last year were displayed at the community market on Saturday 9th February, at which 12 more suggestions were submitted. Points of comment included:
Footpaths are widely used and valued.
The White Hart Inn, the village hall and Elm Farm are considered important to the village.
The Hamstead Hornet remains the popular way to keep informed about what is going on in Hamstead Marshall, as is the village website. There is a suggestion for a village magazine.
Broadband access (Gigaclear) is now operating in the village.
Main concerns for the future of the village:
Traffic safety and volume;
Fly tipping;
Mobile phone signal;
Future housing developments.
Three aspects of Hamstead Marshall that are liked:
Rural setting/views
Community/people/friendliness
Access and connections
The team is now drawing up an action plan based on the points made.
Pictures from the past
These three photos of Chapel Corner were taken by the photographer Donald Birkinshaw in 1952. From left to right they are:
the old Post Office;
looking northwards from Chapel Corner along Warwick Hill, showing the house which was replaced by Honeysuckle Cottage;
the cottage which used to stand where now is Elm View.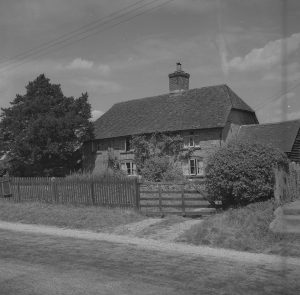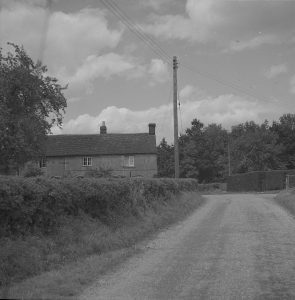 Use it or lose it
Many villagers may be unaware that a mobile library visits the village every third Thursday , parking at the village hall from 10.20 to 11am (see the What's On page for specific dates).
Usage is falling, and if it doesn't recover the service will surely be targeted for a cut.
The mobile service also operates an At Home loans service for residents who are housebound. Volunteers will collect and deliver library books on request. To find out more about this service see the WBC library service page.
See the What's On page for a calendar of village events.
See the News & events page for more details of individual events.
See St Mary's website for details of church services and events organised by the support group.
See the Hamstead Hornet for a summary of village news in the last quarter: White Hart latest, planning applications, village property on the market etc.