TELESCOPE WORKSHOP
with the Newbury Astronomical Society
7.30pm, 26th February at the Village Hall
For those who:
are thinking about buying a telescope...
have a new telescope and need help...
are having problems when using a telescope...
or just need some advice about observing.
There will be observing outside if it is clear.
Donations of £2/adults and £1/children are requested. Refreshments and all help is included
Contact: steveh23448@gmail.com
Beginner's website: www.naasbeginners.co.uk
Society website: www.newburyastro.org.uk
Elm Farm sale nearly complete: one lot to go
Seven of the eight lots described in the Carter Jonas brochure have now either been sold or are under offer. One lot remains to sell: Lot 7 in the brochure was described as 47 acres, and comprises the fields on either side of the bridleway, with access from both Kintbury Road and Park Lane, but now also includes No 3 of Elm Farm Cottages. Details cab seen on https://www.carterjonas.co.uk/house/for-sale/newbury/nwr200001
Carter Jonas is asking for offers in excess of £650,000 for the cottage and land.
Ash Tree Grove
Information from Anne Budd
Sovereign Housing and Mitsubishi, in collaboration, wish to film a promo video in Ash Tree Grove on Monday, 2nd March. The focus will be on the system and the views of residents. The video's presenter, George Clarke, is an architect and television presenter, and the length will likely be 15 minutes. It is likely but not yet confirmed that filming will take place in the late morning/afternoon, but this has yet to be finalised.
Sovereign will be offering shopping vouchers as a way of thanking for support and understanding, especially through  the installation programme.
If you need more information please contact Anne by email or on 01488 657022.
Speaker's Corner
Continuing the series of talks in St Mary's Church:
7.30pm, Tuesday 10th March: Jim Flint. Mid-Atlantic village
There is parking beside the church.
£5 per person includes a glass of wine or soft drink, and nibbles.
More details, if you need them, from here.
Enborne School seeks new governors to help build on success
Enborne CoE Primary school has come top of the league of West Berkshire's 78 primary schools.
100 per cent of its pupils met the expected standards in Key Stage 2 results completed last summer and published in December 2019. The national average is 65 per cent.  In addition, following an Ofsted inspection in mid-January, the school has been rated as outstanding overall.
The governing board is now seeking new members, especially people with experience of education or governance. To learn more, email the chair of governors, Claire Smith.
More details of the school's achievement can be seen via the  government league table of West Berkshire schools, and the school also has its  own website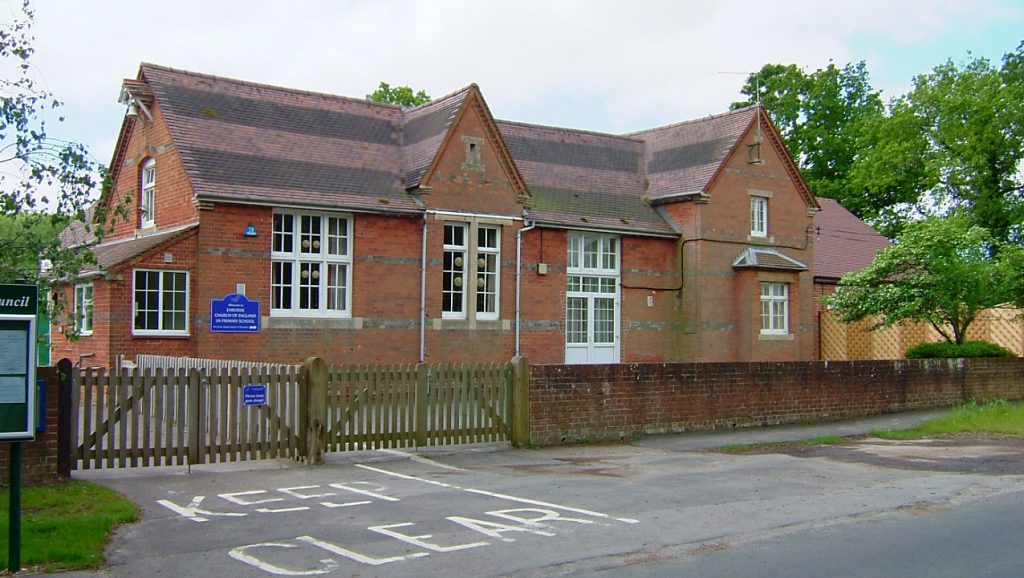 Thirty years ago Hamstead Marshall Parish Council used to nominate a governor to the school board, on the basis that Enborne School served both villages, but this custom has long since ceased.
The White Hart has "closed for the winter".
The December issue of the Hamstead Hornet can be seen here: news, events, planning applications.
See the What's On page for a calendar of village events.
See the News & events page for more details of individual events.
See St Mary's website for details of church services and events organised by the support group.
See the Hamstead Hornet for a summary of village news in the last quarter: Elm Farm sale latest, planning applications, village property on the market etc.
Pictures from the past
The picture below left shows numbers 7 and 8, Hamstead Marshall, back in the 1980s. Number 7 (left) was the home of the photographer John Parr in the early twentieth century. Number 8 remained Craven-owned well after most of the estate was sold off, coming onto the market in the late 1980s. For a short period it was jointly owned with number 7, but is now again separate. Both have been remodelled almost beyond recognition.
The centre picture shows a party of beaters on the Craven estate in the 1920s. Third from left is Victor Schmidt, the estate steward for many years until his death in 1928. He was a popular figure throughout the village, even during the First World War when paranoia caused many people with German-sounding names (including the royal family) to anglicise their names.
On the right is an early 1980s view of what is now Middle Barn in Craven Hill. This area was formerly called the Stableyard, although the stables themselves (such as this one) were converted into garages to house Lady (Cornelia) Craven's Daimlers.