White Hart to re-open in March with its own microbrewery
The reopening of the White Hart Inn is expected for mid-March, together with its own four-barrel microbrewery under head brewer John Trueman, offering the following craft ales:
Saviour Gold (5%),a classic pale ale brewed with Maris Otter pale malt from Warminster Maltings and English fuggles and Goldings hops;
Saviour Bitter (3.5%) brewed with Northdown hops from Worcestershire.
The owner, Stella Coulthurst, is to introduce a beer club, Saviour Boozers, with an annual fee of £20 entitling members to a 50 per cent discount on the microbrewery ales.
There will also be a loyalty scheme for foodies, the Hart Club (free to enter), under which diners can collect and spend points. The menu will feature pub classics and, in the words of the landlord, "scrummy comfort food, such as cottage pie and a lamb and butternut curry duo".
"Today's customers want a comfortable, casual atmosphere where it's easy to enjoy a couple of pints or glasses of wine and decide to grab a take-away curry and a bottle of wine to finish the evening at home. That's us," she commented, adding that take-home bottles of wine will be available at a "handsome discount".
An apparently threatening image posted on the Twitter page of SaveWhite_Hart has prompted the pub's owner, Stella Coulthurst, to contact Thames Valley Police.
The image shows the pub logo (2011-15 version) of a white deer, but bloodily stabbed with a weapon headed by a skull. The word "owner" appears above.
In an email copying the Save-the-White-Hart campaign, district councillors and Richard Benyon among others, Stella Coulthurst points out that she has hitherto ignored trolling on Twitter and Facebook, but she considers this a step too far and wants it taken down.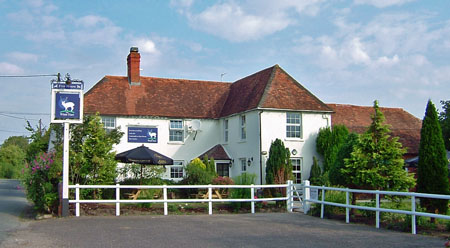 The nine rooms are expected to open a couple of weeks ahead of the pub itself. Keep watching this page for an announcement of the date.
Results of the parish plan survey
Returns of the questionnaire circulated to villagers last year were displayed at the community market on Saturday 9th February, at which 12 more suggestions were submitted. Points of comment included:
Footpaths are widely used and valued.
The White Hart Inn, the village hall and Elm Farm are considered important to the village.
The Hamstead Hornet remains the popular way to keep informed about what is going on in Hamstead Marshall, as is the village website. There is a suggestion for a village magazine.
Broadband access (Gigaclear) is now operating in the village
Main concerns for the future of the village:
Traffic safety and volume;
Fly tipping;
Mobile phone signal;
Future housing developments.
Three aspects of Hamstead Marshall that are liked:
Rural setting/views
Community/people/friendliness
Access and connections
The team is now drawing up an action plan based on the points made.
Message from John Handy
To the person who kindly found and returned my lost red penknife: I owe you a pint of local beer. Please make yourself known so I can thank you and reward you.
If you think Brexit's unmentionable, try this...
We're all headed there, but it's not a subject welcomed in everyday conversation. The social taboo on discussing death grows ever stronger as life expectancy is extended, although our great-grandparents were probably much more comfortable with the subject than we are.
Death Cafés aim to break through this silence by bringing together groups of people – not necessarily known to each other – for a directed discussion about death with no agenda or objectives other than to help each other towards feeling more comfortable about the subject. The conversation may range from emotional to practical issues, but it's not a grief support or counselling session, and there's no intention of leading people to any conclusion, product or course of action.
Local yoga teacher Neeta Madahar is running Hamstead's first Death Café at the village hall from 2 until 4pm on Saturday 23rd March, and the second on Sunday 28th April. Entry is free, all are welcome, and no one will be expected to say anything with which they are not entirely comfortable. Refreshments will be served.
See https://deathcafe.com for information on the national organisation.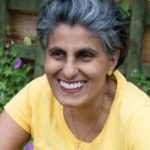 Tai Chi and Pilates classes
Paula Chandler is starting a beginners' Tai Chi class on Thursday 21st February from 6 to 6.45pm at the village hall.
This class is an introduction to Tai Chi, and includes Qigong exercises. It's suitable for those who want to gain greater control over their bodies and minds, and is suitable for people with MS, arthritis, stroke, balance issues etc. No special equipment is needed, just comfortable clothing and light trainers.
The cost for 6 weeks (21st February to 28th March) is £54. There's no turn-up option, because Tai Chi needs to be done consistently.
Paula Chandler's Pilates class continues, from 9.15 to 10.15 on Monday mornings.
Contact her for further details.
Speakers' Corner
The final Speakers' Corner talk will be at 7.30pm Wednesday 27th March in St Mary's Church, featuring Robin Barrett on Postcards from abroad. Parking is available by the church. The cost is £5 which includes a glass of wine or soft drink, and nibbles. No booking is required. Please email if you would like more details and information of the series.
Elm Farm tenancy changeover
Following the end of Brian Goodenough's tenancy on 31st October, Elm Farm has switched to sheep, under the new share-farming tenant, James Edwards.
Cattle will be coming back next year, and maybe other animals in a couple of years.
ORC has asked that local dog walkers keep their animals on leads at all times on the farm, and pick up their faeces.
In the event of any concern (such as escaped sheep) contact James on 07834 859095 or ORC on 01488 658298.
CEO change at ORC Elm Farm
Nic Lampkin has stepped down from the post of chief executive of the Organic Research Centre at Elm Farm, a post which he has occupied since taking over from Lawrence Woodward in 2010.
Dr Bruce Pearce has been appointed acting-CEO whilst a new  CEO is sought.
Pictures from the past
These three photos of Chapel Corner were taken by the photographer Donald Birkinshaw in 1952. From left to right they are:
the old Post Office;
looking northwards from Chapel Corner along Warwick Hill, showing the house which was replaced by Honeysuckle Cottage;
the cottage which used to stand where now is Elm View.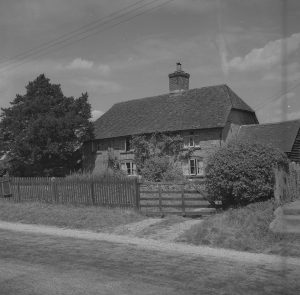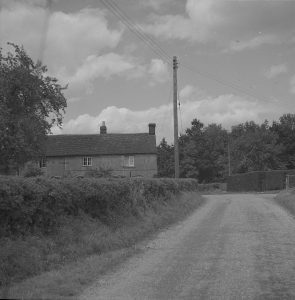 Use it or lose it
Many villagers may be unaware that a mobile library visits the village every third Thursday , parking at the village hall from 10.20 to 11am (see the What's On page for specific dates).
Usage is falling, and if it doesn't recover the service will surely be targeted for a cut.
The mobile service also operates an At Home loans service for residents who are housebound. Volunteers will collect and deliver library books on request. To find out more about this service see the WBC library service page.
See the What's On page for a calendar of village events.
See the News & events page for more details of individual events.
See St Mary's website for details of church services and events organised by the support group.
See the Hamstead Hornet for a summary of village news in the last quarter: White Hart latest, planning applications, village property on the market etc.