__________________________________________
The mobile library will stop at Ash Tree Grove from 10.40 until 11.10 on Thursdays 18th November, 9th December (double issue), 20th January, 10th February, 3rd and 24th March.
__________________________________________
From the evening of Friday 19th to 5pm on Sunday 21st November the White Hart is offering free Saviour ales and Symonds cider in return for a donation to Children in Need. More details here, or from Tim Hirst on 07703 428357.
__________________________________________
Sarah Ward regrets that, owing to the persistence of Covid, she and Mick will not be organising village carol singing this year.
__________________________________________
__________________________________________
They're queuing up to get on the parish council
No fewer than four candidates have put their names forward for the vacancy on the parish council created by Susie Aromando's recent resignation. The existing councillors will vote for their choice at the parish council meeting to be held tomorrow (Thursday 18th) in the village hall.
Members of the public are welcome to attend. A copy of the agenda can be seen here.
School governor sought
Enborne C of  E Primary School is on the hunt for a new governor: someone with experience and skills in finance and/or safeguarding. The role is voluntary, with an expectation of attending six meetings a year and carrying out other governance duties.
This is a way to make a positive difference to the lives of children in our community. Enborne is an 'outstanding'-rated Ofsted school, with a proactive, capable governing board. To find out more, email eclerk@enborne.w-berks.sch.uk
Good Hope Farm appeal
Good Hope Farm in Park Lane is appealing for large sheets of of cardboard to protect their seed beds over the winter. 
Donations of seeds, soil, gardening gloves and tools, bricks and breeze blocks would also be welcomed. There is a box by the gate for such donations to be left.
If you have any questions as to what may or may not be suitable, ask Karine.
Jubilee trees
Greenham Trust has granted an application from Hamstead Marshall Wildlife Group (HMWG) for native tree saplings, which are to be planted in the recreation field in celebration of the Queen Elizabeth II Platinum Jubilee in 2022.
The saplings will be delivered via Growing2gether, a horticultural and environmental charity for people with disabilities. Growing2gether may also be helping with planting of the trees, which will help those of the charity's employees who are following Laser Learning Awards to accumulate credits.
Anne Budd, who is the driving force behind HMWG, hopes to arrange a celebratory get-together on the field when planting day has been fixed.
This picture of the field was taken by Alan Budd.
Wildlife Group meeting
Hamstead Marshall Wildlife Group's first event was held at the village hall on 23rd September, attracting 31 people, some of whom came from Kintbury, Marsh Benham and further afield.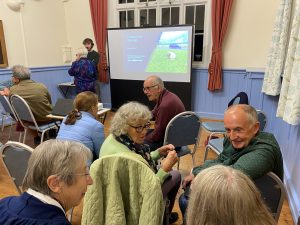 Simon Claybourn of BBOWT gave a presentation on the wildflower verges project which he manages for West Berkshire Council, and answered questions from the audience. After refreshments Anne Budd gave an account of the group to date, emphasising that the mapping of local habitats will continue through the autumn and winter, and anyone can volunteer to take part.
Refreshment donations raised £33.50 for the village hall, and the raffle raised £98 for the British Hedgehog Preservation Society. Anne thanked everyone for their generosity.
The group's next meeting will be held in early spring. Details will be posted here when available.
_______________________________________________________________________