Parish council meetings resume in the hall
The next parish council meeting will be held face-to-face in the village hall at 8pm Thursday 29th July. All parishioners are welcome to attend. Agenda as below.
1. Accepted apologies
2. Declarations of members' interests for this meeting
3. Approval of the minutes of the annual meeting and annual assembly held on 20th May 2021
4. Matters arising from the minutes
5. Planning
New applications and updates received since 20th May 2021, including:
21/01391/HOUSE North Lodge, Road Known as Park Lane, HM, RG20 0JD
First floor extension and alterations to the existing dwelling
21/01777/AGRIC Land Adjacent To 18 Unnamed Road From Holtwood Road To Hamstead Marshall Hamstead Marshall Newbury West Berkshire
To construct a simple timber framed open fronted hay barn. Fibrecrete roof cladding with top half of weatherside Yorkshire borded. Free draining to surrounding field
• Update on other current planning applications and enforcement concerns
21/00721/REM – Approved per email dated 21.06.21
21/01534/HOUSE The Barn House Road Known As Watery Lane Hamstead Marshall Newbury West Berkshire RG20 0J
Partial demolition of existing dwelling and erection of outbuilding.
HMPC response sent 13.07.21
DECISIONS:
21/01233/HOUSE 27 Unnamed Road from White Hill Farm to Hamstead Gardens
RG20 0HP
Proposed garage conversion
Granted per WBC email dated 05.07.21
6. Councillors' reports
7. District council update
8. Thames Valley Police update
9. Relief in Need charity
10. WBC Covid-19 Recovery Fund
11. White Hart ACV discussion
12. Standing Orders and Code of Conduct review and sign off
13. Assets Register sign off
14. Accounts
15. Any other business
_______________________________________________________________________
Glamour in the Grove
George Clarke, the award-winning presenter of Channel 4's programmes such as Amazing Spaces and Old House New Home, came to Hamstead on 29th June to film a promotional video for Mitsubishi Electric's Ecodan heat pump systems, which now heat almost all of Ash Tree Grove at low cost and high energy-efficiency. Energy bills and carbon emissions have halved, and residents have reported increased warmth and comfort.
Anne Budd had been campaigning for several years for replacement of the Grove's night-storage radiators. Success came in 2018 when the Grove was chosen by Sovereign Housing for a trial of Mitsubishi's Ecodan heat pump system, the success of which was to be recorded for a promotional video.
George Clarke, as Mitsubishi's Ecodan ambassador, together with a crew from Mitsubishi Electric and Sovereign Housing's head of customer communications, arrived on the Budd doorstep for busy morning of covid-compliant filming. There were several takes of several interviews, with only a brief interruption when a random sound effect was traced to the ticking of Anne's carriage clock, duly removed. Anne even found time to bend George's ear on the subject of her current venture of local wildlife habitat mapping. She described the whole experience as professional and pleasant.
When available, a link to the video will be supplied here, but in the meantime you can listen to podcasts on the use of this technology here.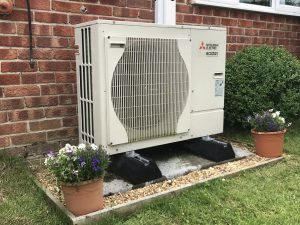 How does it work?
The Ecodan air source heat pump works from an outdoor installation as shown left, which draws heat from the air and compresses it to raise the temperature and generate heat output. It requires water and electricity supply. Read more details here.
_______________________________________________________________________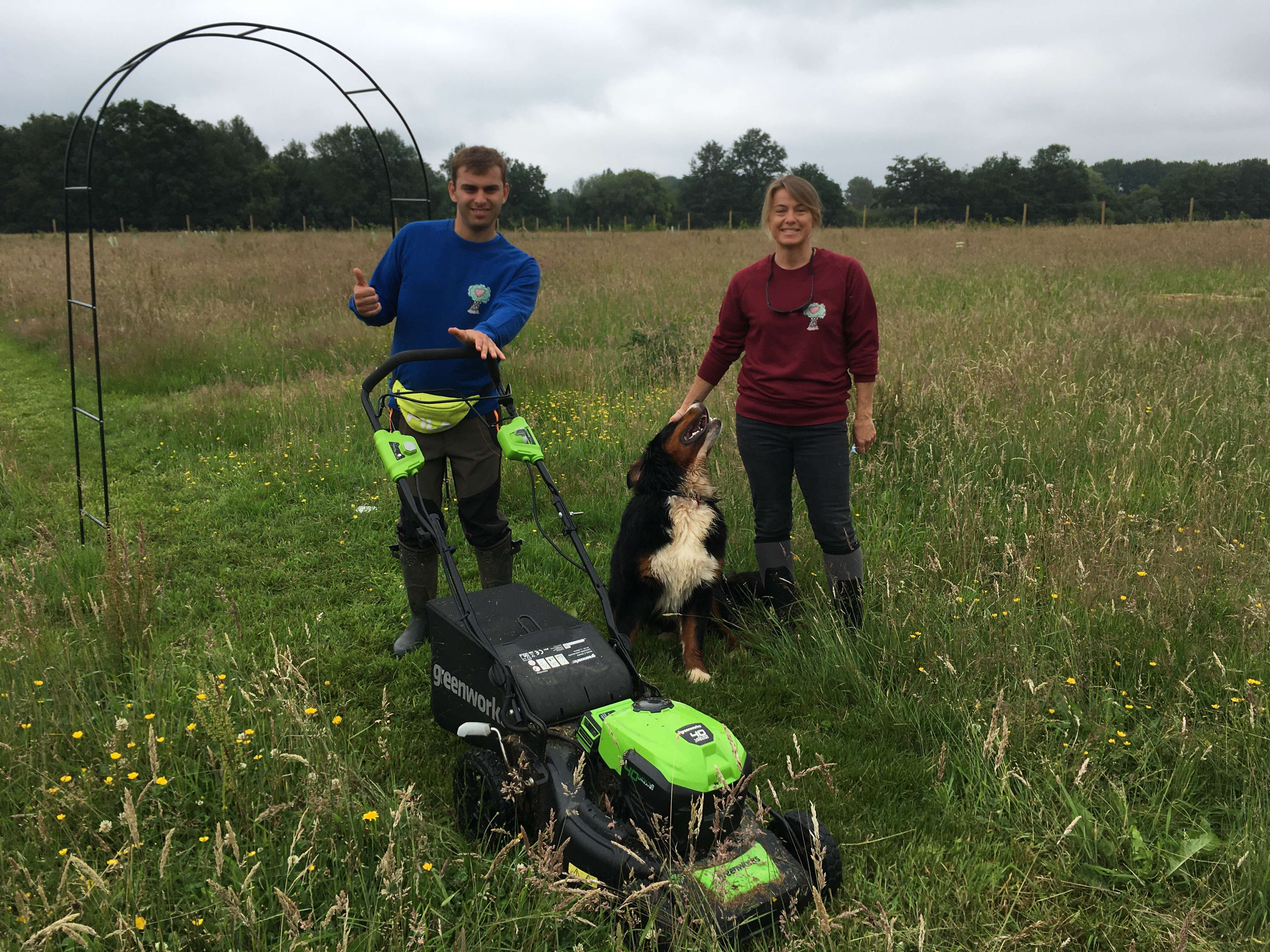 Good Hope Farm
Good Hope Farm is the name of a brave new enterprise on former Elm Farm land in Park Lane.
Karine Giannamore and her son Alex are converting several acres of overgrown pasture into a small organic farm which will serve as a day centre for adults with learning disabilities. Since acquiring  the site in 2020 they have planted a small apple orchard, dug several beds for cultivation, and mown paths around the plot.  A wildflower meadow is planned, and next spring will see the start of planting organic vegetables, fruit and flowers for sale on site and at local markets. Good Hope Farm is aiming to acquire a greenhouse-cum-classroom, for which there is currently a fundraising page on the Good Exchange. Here, it is planned to hold practical sessions for special-needs farmers and students.
The plan behind the venture is to offer purposeful activity that can lead to the acquisition of practical skills and a calming connection with nature for individuals who might otherwise be isolated from society. The idea has long been Karine's dream, and she is pursuing it with energy and enthusiasm. She is planning an open day in September (watch this space for details) at which local people can come and see what has been achieved. Meanwhile, offers of help in the form of volunteer labour, donations of seeds and plants, loans or donations of equipment, and of course financial support* would all be welcomed. Contact Karine via the Good Hope Farm website.
*donations via the Good Exchange are match-funded by Greenham Trust
_______________________________________________________________________
_______________________________________________________________________
The mobile library will stop at Ash Tree Grove from 10.40 to 11.10 on these dates
White Hart
Stella Coulthurst, owner of the White Hart, has responded robustly to the parish council's stated intention of renewing the pub's status as an Asset of Community Value. In an open letter to the village (which you can read here) she makes the point that villagers using the pub will do more to maintain its community value than an official designation.
Opening hours:
Monday - Thursday 5-10pm
Friday & Saturday 12-10pm
Sunday 12-5pm
(Please be advised that the application to renew to White Hart's ACV status is to be carried out by the parish council as a group, and not by any individual councillor as reported in the June issue of the Hamstead Hornet.)
Home testing
The government has announced that everyone in England will be able to access free, regular, rapid coronavirus (COVID-19) testing from 9 April. Details here.
To see how to obtain your free lateral flow test kit see here.
One of the options is to collect from the council's Community Collect Mobile, which will be calling at the village hall on Fridays from 09.15 to 10.15.