Garden Society Christmas meeting
talk and demonstration by Erica Adams on basketry
at the village hall at 7.30pm on Wednesday 4th December
mulled wine and mince pies
raffle (contributions of prizes would be appreciated)
membership renewal available for 2020 (£5)
more details from Dawn Taylor (01635 32006)
or Penelope Lake (01635 48701)
White Hart Friday opening
5pm to 10pm this Friday
Home-brewed real ales
Caroline's little kitchen serving crepes 6.30 to 8.30
St Mary's: the debate continues
The future of St Mary's Church was the subject of a parishioners' meeting held at the church in late August, at which Peter Benest, speaking on behalf of St Mary's parochial church council (PCC), outlined the financial perils of present circumstances. A report of the meeting was published in the September issue of the Hamstead Hornet.
A second meeting was held (for those unable to attend the first) on 8th August, at which there were addresses from both Peter Benest and the Rev Mark Wilson, priest-in-charge of the Walbury benefice. Mark's view is that remedial action should be concerted (across the benefice) rather than unilateral (St Mary's acting alone). His thoughts have been summarised in this article by Andrew Hunter.
Parishioners' views are being sought, preferably in time for inclusion at the next parochial church council meeting in late October. You can express your opinion to either or both of:
Hallam Goad, secretary of St Mary's PCC.
Elm Farm yard sale
Message from ORC Elm Farm
You may already know that we are leaving the village early next year. We are beginning the process of clearing the Elm Farm site and won't need most of our furniture (from the offices, garden, conference hall and farmhouse) or things like cutlery and crockery and bedding etc where we are going.  We are looking to pass these onto to worthy parties (for a small donation). Most things will not be able to be taken until the new year but if you think you would be interested in putting your name against something please come along to Elm Farm between 4pm and 8pm on the 12th December and take a look.
Village carol singing
This year Hamstead Marshall Carol Singing will be on Thursday 19th December, meeting at Chapel Corner at 7pm, and raising money for the Living Paintings charity which was founded by Hamstead resident Alison Oldland in 1989 to enable blind and partially-sighted people enjoy great works of art.
Everyone is welcome, but please wear bright clothes and bring a torch. 
Do contact Sarah Ward on 01488 658817 or email sarahward1000@hotmail.com if you want to come, or if you have any queries.
Speaker's Corner
The talks series Speakers' Corner continues at St Mary's as follows:
Wednesday 4th December Annabel Chaffey: Sliding to success: the realities of elite youth sport
Wednesday 22nd January Alistair Mills: Robert Burns, national bard, lad o' pairts
Thursday 13th February Chris Bullard. Life in the ocean wave
Tuesday 10th March Jim Flint. Mid-Atlantic village
All start at 7.30pm in St Mary's Church, Hamstead Marshall. There is parking beside the church.
The cost of £5 per person includes a glass of wine or soft drink, and nibbles.
More details, if you need them, from here.
Pictures from the past
The picture below left shows numbers 7 and 8, Hamstead Marshall, back in the 1980s. Number 7 (left) was the home of the photographer John Parr in the early twentieth century. Number 8 remained Craven-owned well after most of the estate was sold off, coming onto the market in the late 1980s. For a short period it was jointly owned with number 7, but is now again separate. Both have been remodelled almost beyond recognition.
The centre picture shows a party of beaters on the Craven estate in the 1920s. Third from left is Victor Schmidt, the estate steward for many years until his death in 1928. He was a popular figure throughout the village, even during the First World War when paranoia caused many people with German-sounding names (including the royal family) to anglicise their names.
On the right is an early 1980s view of what is now Middle Barn in Craven Hill. This area was formerly called the Stableyard, although the stables themselves (such as this one) were converted into garages to house Lady (Cornelia) Craven's Daimlers.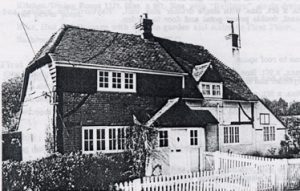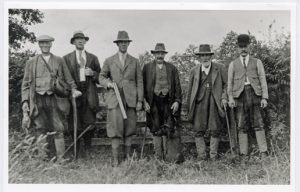 See the What's On page for a calendar of village events.
See the News & events page for more details of individual events.
See St Mary's website for details of church services and events organised by the support group.
See the Hamstead Hornet for a summary of village news in the last quarter: Elm Farm sale latest, White Hart events, planning applications, village property on the market etc.